What type of English course are you looking for?
The Best English language Course in Marbella 2021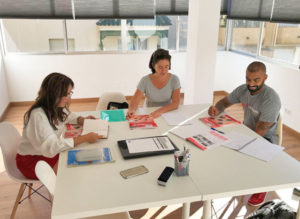 At Miss Languages Marbella we have English language courses for all types of people; for students and professionals or even if you are on holiday or just passing through on your travels. At Miss languages our English courses are available for all levels of learning, from beginners to those whose would like to get advanced certificate.
General English courses
These general English courses are ideal for adults who improve their ability to speak, listen, read and write in English.
Preparatory courses for the Cambridge exams: we are the Official Preparatory Center for the Cambridge exams. Private classes, semi-private or small groups and by levels.
In these courses, we not only prepare our students to pass these prestigious exams and obtain the qualification that qualifies them internationally, but, along the way, they learn to speak and to understand real English. Our classes are fundamentally practical, dynamic and effective for those who want to speak English.
We also offer English support classes: for our Primary, Secondary, Baccalaureate and Selectivity students who need to understand and pass the subject. Our professors of MISS are graduates, possessors of the Certificate of Pedagogical Aptitude (CAP) that accredits us to practice teaching in Secondary and Baccalaureate. As English teachers we know the Spanish Educational System and we know how to make our students pass. We have a 100% pass in Selectividad every year!